Problem

I can't find the Table Component in Appway 6. What happened?


Traditionally, Tables have been used for three main use cases in Appway. They were used for layouting whole Screens, to display large amounts of tabular data, and to show small, static pieces of information that need to be shown in a tabular way.

Let's look at the typical layout of an Appway App. Many Appway Apps looks something like this: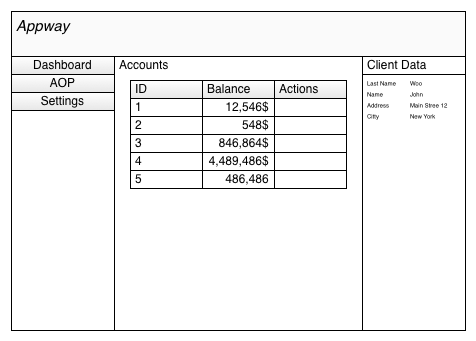 In earlier versions of Appway, the regular old Table Screen Component was used for many of these layout elements.





Using the Table Component for these use cases creates a number of issues. The resulting static layouts only work well on specific screen sizes, and the Table Component does not work well for large sets of data. It also doesn't have a default visual layout, so using the Table Component always requires writing extensive CSS styles. By default, the Table Component is not sortable, and provides no interaction.

To prevent these issues, Appway 6 provides specific Screen Components for each of the aforementioned use cases.

Main Layout

To design your solution's main layout, use a layout Component such as the Border Layout Manager. Use the Border Layout Manager documentation to find out how to use this Component.

Large Sets of Dynamic Tabular Data

To display large sets of dynamic tabular data, you can use the Data Table Component. Follow the Data Table documentation to find out how to use this Component.

Small, Static Info Tables

If you need to display small, static sets of data, use the Info Table Component. This Component works similarly to the old Table Component, but will automatically receive a visual layout. The Component is also responsive, which means that it will work properly on any device, regardless of its screen size.

Forms

A fourth use case where people sometimes used the Table Component was to display forms: input fields, dropdowns, etc. In Appway 6, you should use the Adaptive Flow Layout for this purpose. Refer to the Adaptive Flow Layout documentation to find out more.

Backwards Compatibility

What happens to existing Appway Apps that use the Table Component? They will continue to work fine. Instead of the Table Component, the new Info Table Component is used. To ensure backwards-compatibility, in those specific instances, its Adaptive Layout property is turned off. With the Adaptive Layout property turned off, the Info Table Component behaves the same as the Table Component in previous Appway versions. It loses its visual layout and its responsive behavior.

It is not recommended that you use the Info Table Component with its Adaptive Layout property turned off in any situations other than to provide backwards-compatibility.




Back to Cookbook